The app idea is simple, reward cyclists for doing what they love. The cause is noble, help save the environment while promoting health for both cities, and for users. And the best part? It's free. So what's the catch? There are none! No emails, no sign ups and no fee's… ever! Simply download the app, push one button, and you are on your way to great rewards. "For cyclists, Radbonus is a clear profit without any risk. We guarantee that the use of Radbonus for cyclists remains free", promises CEO, Nora Grazzini. "We collect and store only kilometers traveled, no GEO data. All data is completely anonymous, and we will never ask for personal data".
For the users, rewards include discounts at stores and e-shops, discounts on health insurance and valuable prizes from periodic raffles. Bike 50 kilometers and receive 5% discount, 100 kilometers for a 10% discount, and 200 Kilometers for a 20% discount. The app also offers a series of challenges for the users. For companies, rewards for employees using the application are even greater. In 2017, mobile health services in the EU can reduce healthcare costs in the amount of 99 billion euros. Sick leave, absenteeism and production loss can all be reduced. Positive effects of cycling range from increased cardiac health, lower blood pressure, lower cholesterol, and relief from back pain.
While both users and companies can benefit from Radbonus, the real winner is the environment! Cycling produces no pollutants and no noise. Traffic is reduced, while city-wide health is increased! Founder Grazzini explained the motivation behind Radbonus: "For me, cyclists are everyday heroes. Cycling is active climate protection,
good for health and burdens cities much less than automobile traffic. Radbonus is committed to making sure that individual's health and welfare are recognized and rewarded – in a currency that everyone knows and appreciates… Money! I want
to create a wide variety of partners and reward programs, for cyclist with one
simple app," says Nora.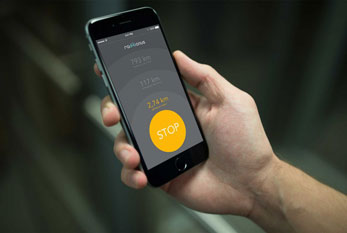 In the German health industry, the area of mobile health or "mhealth", is gaining popularity as the use of smartphones and tablets continue to rise. There are already more than 30,000 health-related smartphone applications that have been downloaded and installed more than 200 million times! While there are many mhealth related apps, there are none like Radbonus. The applications security and privacy, ease of use, free download, and innovative idea sets it apart from the rest. The great potential of the business idea has been recognized by others, and the startup has already been funded by ClimateKIC Accelerator EU and is now part of E.ON's program :Agile Incubator. The next step is cooperation from employers and health insurance companies, because the concept is also suitable for as a preventative measure to reduce sick days and illness, and reduce CO2 emissions by companies. With continued support from investors, Radbonus plans to expand to other countries within Europe and eventually, to the world.
For more information about the company or have any questions?